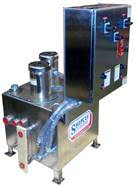 Are you aware that Shipco® is the ONLY manufacturer of condensate and boiler feed pumps that use industry-standard motors ("off the shelf") on all of our pump designs? This feature is not only a specifiable option for your engineers but makes the job of maintenance personnel easier.  No more having to pay for overpriced motors from the pump manufacturer. Also, no waiting 6-8 weeks for special motors with shafts that need custom machining. With Shipco®,  you can be up and running again in hours.
Shipco's® industry standard motor means you can purchase a replacement from any local motor dealer or motor repair shop. In addition, you can save on shipping costs, and you can sell them seal kits, pump rebuild kits, impeller kits, and numerous other pump-related parts!!!  This is a relationship worth establishing, and building. If you're still not convinced, consider the reality of being down, especially for hospitals or any critical process application, where every hour out of operation can cost thousands of dollars.
Stainless Steel and Industry Standard Motors
Shipco® has an all Exterior Stainless Steel model. Type DSSF and DSSF-212 (designed to handle 212°F liquids) units are perfect for the dairy or food processing industry.  The market for these units exists where there is the usage of certain chemicals for washing down the process area. Also, in these industrial process environments, EVERYTHING exposed on the exterior needs to be stainless steel (SS).  Shipco® uses a special polished 304L stainless steel or 316L stainless steel material.
This special process unit includes pumps with stainless steel wash-down duty motors, NEMA 4x SS panels, and the Shipco level and temperature transmitter, with SLC for level controls.  Shipco® also provides SS accessories like SS basket strainers, SS gauge glass, and SS thermometers. Your unit comes with special stainless steel legs to raise the unit 4" off the floor for making cleaning underneath the tank possible.
Your customer will save money, time, and space by not having to build protective walls around the condensate handling equipment. Finally, if you would like to learn more about Shipco products, contact the H.V. Burton Company today. We can provide you with everything you need!