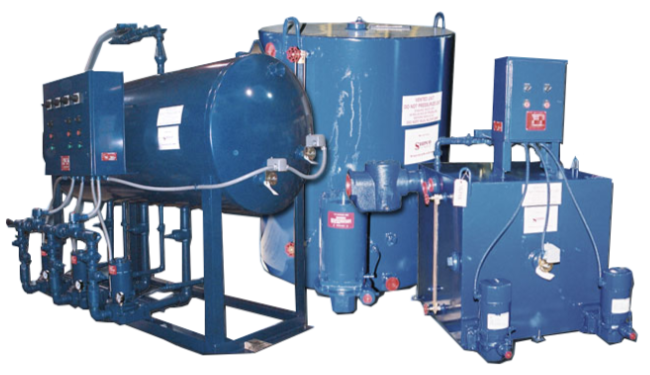 Are you aware Shipco® makes Surge Tanks (make-up boiler feed units that feed a deaerator with continuously running pumps)? What's more, they are available in cast iron and 304L or 316L stainless steel material. The cast iron receiver is available up to 500 gallons as a single tank or more if you yoke them together. The stainless steel option can be done in any size and a variety of thicknesses. What an excellent way to lock up a specification!
Surge Tank Features
In addition, Shipco® can make our surge tanks in a vertical or horizontal configuration for the same price! In fact, Shipco® can even fabricate them as a triangle-shaped tank with Model U pumps on top if needed. Another configuration to consider is having the Deaerator stacked above the Surge Tank. Who else does this? At The H.V. Burton Company, we can help you find the exact boiler room equipment you need for your building.
Floor-Mounted Surge Tank
Shipco® can also offer any surge tank as a floor-mounted unit! With the versatility of our low NPSH pumps, Shipco® provides options that others cannot. Shipco® floor-mounted style Type CS, CS-B, and SHM units can be operated as surge tanks. Floor-mounted units require no seismic calculations and no seismic bracing. There's also no need for an extra condensate pump to pump up to the surge tank return. Condensate will easily flow by gravity into a floor-mounted, atmospherically vented unit. The surge tank is less expensive in a floor-mounted style than the elevated style for a number of reasons, and it takes up less boiler room footprint!
Finally, at H.V. Burton, we can help you find the exact boiler room solution you need. Our experts can analyze your system and the requirements you need. Call us today at 734-261-4220 or schedule a visit.
---