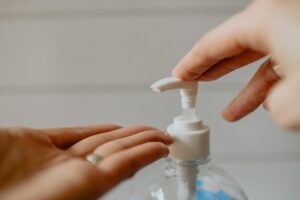 With the virus outbreak, many stores have essential items that are out of stock due to panic and hoarding. Toilet paper, flour, and hand sanitizer are just a few of the items that people cannot get a hold of. However you don't have to worry about a shortage in sanitizers because, here at HV Burton, we now offer hand sanitizer and surface sanitizers for sale!
Why should you buy hand sanitizer from us?
With the COVID-19 virus going around right now, you want your company to remain as clean and sterile as possible. To do this, you need the best hand and surface sanitizers available to you. Our product is by far the best on the market, made by HOH Water Technology. With a huge demand for sanitizing and disinfecting HOH has made a shift in their manufacturing. In addition to hand sanitizer, this shift also includes an emphasis on general surface sanitizers. The new sanitizer is a Perasray and is a ready-to-use sanitizer that uses peracetic acid and hydrogen peroxide to kill germs and bacteria.
If you want a dependable hand sanitizer that complies with World Health Org. (WHO) guidelines, ours is the one for you. With a consistency similar to Purell, our product is smooth and effective in killing 99.999% of germs. Furthermore, our sanitizers are no rinse, pH balanced, alcohol-based, fully biodegradable, and will leave your hands feeling soft. We have exceeded the USDA/FDA regulations for "E3" sanitizers.
HV Burton is still open during these difficult times. If you are interested in keeping your company clean and safe, contact us about our hand sanitizer availability today! You can give us a call at 734.261.4220 to find out what we can do for your business. Please stay safe and healthy during these tough times. We look forward to hearing from you.